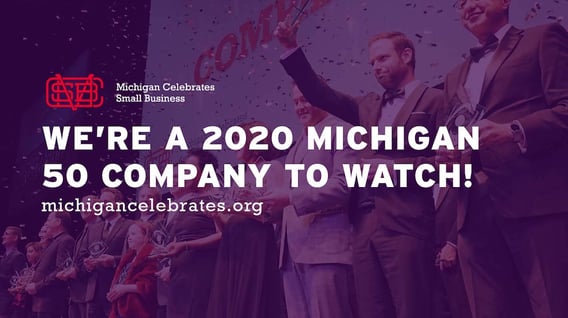 InsITe Business Solutions is being recognized as one of the 2020 awardees for the Michigan 50 Companies to Watch award, presented by Michigan Celebrates Small Business! We're excited to announce that we will be honored at the 16th annual Michigan Celebrates Small Business virtual awards ceremony gala event on July 28, 2020.
"I am so proud to be a part of this company," stated CEO and Founder, Mike Schipper. "I am amazed every day at the level of commitment our employees have to our mission. This is just another acknowledgment of what our team has been working towards all along. You can expect to see InsITe more as we grow in success and invest in our community!"
This year's Michigan 50 Companies to Watch have made a substantial economic impact, totaling $365 million in total annual revenue for 2019. From 2016 through 2019, these companies generated $1 billion in revenue and added 723 employees (both in Michigan and out of state), reflecting a 101.9% increase in revenue and 93.8% increase in jobs for the four-year period. That translates into a 26.9% annual revenue growth and 24.8% annual growth in employees.
"Michigan's small businesses are the lifeblood of our local economies and play a vital role in making our communities attractive places to live, work, visit and play," said Josh Hundt, Chief Business Development Officer for the Michigan Economic Development Corporation. "As the state continues to recover from the COVID-19 outbreak, we are honored to recognize and celebrate these small businesses, which demonstrate the resilience, innovation and grit that sets Michigan apart."
Companies nominated for the Michigan 50 Companies to Watch award must be second-stage companies, defined as having six to 99 full-time-equivalent employees and generating $750,000 to $50 million in annual revenue or working capital from investors or grants. Additionally, the companies must be privately held and headquartered in Michigan.
Judges from economic and entrepreneurship development organizations selected the 2020 winners. The judges evaluated the nominees' demonstration of intent and capacity to grow based on the following:
Employee or sales growth

Exceptional entrepreneurial leadership

Sustainable competitive advantage

Other notable factors that showcase the company's success
This year, Michigan Celebrates received 575 nominations for the Michigan 50 Companies to Watch award, which surpassed last year's record of 425 nominations. In addition to a competitive landscape for this award, the businesses that are selected by the judges go through a rigorous due diligence process prior to the final decision.
Here at InsITe Business Solutions, we believe in a deeper meaning that drives our team's passion for excellence. Our company mission involves being servant leaders and impacting people through our passion and talents. Whether it's our clients, our community, our families, or our own internal team, we are driven to be the best we can be – the very best version of ourselves for the world. InsITe is "Built to Serve," and we do our best every day to build our company up with a servant mindset. To be honored for the Michigan 50 Companies to Watch award means so much to us.
To learn more about our company, click here to visit our About Us page.
---
Michigan Celebrates Small Business (MCSB) is a collaboration of trusted statewide founding organizations who offer resources for small businesses. Since 2005, Michigan Celebrates Small Business awards gala has placed a spotlight on how small businesses positively impact our communities and state. The MCSB organization is focused on supporting, promoting and celebrating small businesses in Michigan.
The Manufacturing Growth Alliance is the Managing Partner of Michigan Celebrates Small Business. Founding sponsors are the Michigan Economic Development Corporation, PNC Bank, AF Group, and Dynamic Edge, Inc.
Information about Michigan Celebrates Small Business can be found at www.MichiganCelebrates.org.