April 9, 2019 - Warren, Mich. — every year companies throughout West Michigan compete to be named one of "West Michigan's Best and Brightest Companies to Work For®." Only companies that distinguish themselves as having the most innovative and thoughtful human resources approach can be bestowed this honor. InsITe is proud to announce that it has been distinguished as a Best and Brightest Company to Work For three years running!
An independent research firm evaluates each company's entry based on key measures in various categories. They include Compensation, Benefits and Employee Solutions; Employee Enrichment, Engagement and Retention; Employee Education and Development; Recruitment, Selection and Orientation; Employee Achievement and Recognition; Communication and Shared Vision; Diversity and Inclusion; Work-Life Balance; Community Initiatives; Strategic Company Performance and the Best of the Best Small Business, Medium Business and Large Business.
"We are honored to recognize the efforts of this year's 'Best and Brightest' companies. These companies have created impressive organizational value and business results through their policies and best practices in human resource management. This award has become a designation sought after by hundreds of West Michigan companies and is a powerful recruitment tool in the drive to attract and retain exceptional employees," said Jennifer Kluge, President and CEO, Best and Brightest Programs.
The Best and Brightest Companies to Work For® is a program that provides the business community with the opportunity to gain recognition, showcase their best practices and demonstrate why they are an ideal place for employees to work. This national program celebrates those companies that are making better business, creating richer lives and building a stronger community as a whole. It is presented annually in several markets including Atlanta, Boston, Chicago, Dallas, Detroit, Houston, Milwaukee, San Diego, San Francisco Bay Area, West Michigan and Nationally.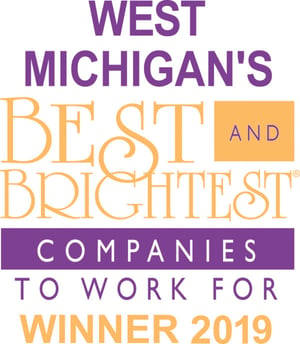 ABOUT INSITE BUSINESS SOLUTIONS:
InsITe provides leading business technology solutions and manufacturing IT services to improve efficiencies, integration, and insights. We're not a typical IT company selling products for short-term, short-sited fixes. We invest in long-term solutions for a company's growth by taking the time to learn its products, process, and business goals before bringing tech into the conversation. In this way, we become much like our clients' very own internal IT department with familiar faces who understand the business and are ready to help.
We offer infrastructure monitoring and maintenance, systems security, cloud hosting and services, business applications, and data/systems integration to support you 24/7. We also develop and manage business applications, leveraging data to create the tools needed to be more productive, and to make the best possible decisions. Our highly qualified Team is committed to earning our client's continued trust every day through complete understanding of their needs, excellent communication, best in class support, and exact-fit solutions. InsITe strives to be the last IT provider our clients will ever need.
Learn more about one of the best and brightest companies in West Michigan