5 Ways a SharePoint Intranet Empowers Teamwork
You know the cliché- New Year, New You! How about we switch it up a little bit and make it New Year, New Intranet? I promised to leave all the negativity and talk of 2020 in the past, so we won't be going into the specifics of last year. Still, we need to acknowledge how it threw the workplace for a whirlwind. Many people's jobs, work environment, and roles were significantly impacted. There is no better time than now to take those challenges and find the silver lining. The answer- taking advantage of a solid SharePoint Intranet that empowers teamwork, no matter where your employees are physically!
Collaboration Benefits of a SharePoint Intranet
A well thought out and properly designed SharePoint can empower employees by creating dynamic and productive Team Sites. How we work has changed, and there is a great need for every project team, department, and division of the workplace to have a shared space and solution that promotes collaboration and productivity.
Team Sites not only do that, but they also can be directly connected to Microsoft Teams, which only opens you up to more features and advancements. They can also be connected and built into an Intranet that brings tremendous value to your Company, for both operational and cultural purposes.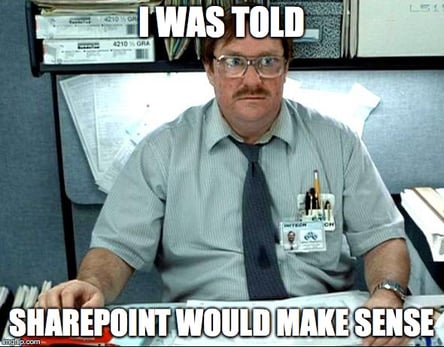 For most companies, SharePoint starts as a document repository. It may have been the logical solution for moving the S drive off the local network and into the cloud, or just an easy way to grant groups of users access to shared department files. For lots of companies, the bad news is that document storage is also where their use of SharePoint stops. Sure, they may reap the benefits of security and accessibility, but they miss so much more.
Not on SharePoint yet? Don't stop reading; this blog will share why you should consider adopting SharePoint and M365. "More than

200,000 organizations and 190 million people have SharePoint

for intranets, team sites and content management (

https://www.microsoft.com/en-us/microsoft-365/sharepoint/collaboration

)." While I would never encourage anyone to be a number, I am going to share some examples and use-cases that will not only show why this statistic is so high, but will also hopefully help encourage others to adopt SharePoint; or inspire those already on SharePoint, to maximize their investment by expanding the use!
5 ways a SharePoint Intranet empowers teamwork and productivity.
Create an Organized Hub




Take advantage of SharePoint's newer Hub capabilities, and connect your sites to build an intranet experience. Work is no longer siloed, so your SharePoint sites shouldn't be either. Business leaders and project managers have had to learn how to keep team members on target when workloads pull them in dozens of directions and across multiple departments.
Creating an organized Hub can help you not only keep teams organized and collaborative, but it also

enables effective communication

and sets the stage for growth and success. Plus, the Hub makes it a lot easier to brand and customize the look and feel, which can really help with overall user buy-in.

Engage and Inform Your Organization

This takes #1 above a step further and encourages you to use the different webparts and roll-up features to build cohesion and inform employees of things happening across the company. SharePoint easily integrates with Active directory profiles, making it easier to connect with people. More so, it drives organizational efficiency by breaking down the walls and barriers by making it easy to

share common resources, applications, and knowledge

on home sites and portals.
Some companies take this one step further and even track performance metrics and provide transparency on KPIs and other essential company metrics, so employees are informed and not forced to track information down.

Make Your Data Interactive

We mentioned most companies using SharePoint for shared file storage. A lot of those are now experiencing the initial benefit of

live editing/co-authoring

. Unfortunately for many, the collaborating stops there, and it shouldn't. SharePoint has the capability of bringing so much more value to your files and data. It has built-in tools for

information management and using metadata and tagging

. You can set alerts or create workflows that put your data to work. Modern SharePoint online has even made formatting and visual data representation easier and more robust.

Transform Business Processes




Accelerate productivity by transforming and automating processes. From simple tasks like notifications and approvals to more complex and customized operational workflows, SharePoint and its partner M365 apps make it easy to transform business processes.

M365 allows employees to focus their time on important things

vs. the tedious day-to-day administrative items. Instead, we can use the tools we are paying for to simplify even automate these everyday items.
With SharePoint lists and libraries, Microsoft Power Automate Flows, and PowerApps, you can create rich digital experiences with forms, workflows, and custom apps for every device. SharePoint Intranet provides immense opportunities to improve the business processes (using Power Automate) and reporting (Using Power BI) within the intranet. It even opens the door for

enhanced optimization with Microsoft automation and AI capabilities

. No matter where you are on your journey, or whatever your business goals are, SharePoint and Microsoft 365 can help achieve that transformation. 

Integrate and Consolidate To Save Money and Alleviate User Frustration

I have mentioned a few times already how SharePoint integrates and works flawlessly with some of the other Microsoft 365 apps. Still, I must also highlight the ability to integrate with many other 3rd party apps and other software solutions. One of the biggest employee complaints is TOO many logins, TOO many different tools, and TOO many different programs/places to jump between for their job.
SharePoint can help alleviate this frustration by bringing everything together and being the

holistic digital workplace solution

you need. Even more, when customized and fully utilized, SharePoint can eliminate the needs for many of the other apps and software that are used for only one specific task. We have helped many businesses consolidate their checkbook by fully leveraging what they are already paying for and cutting out some of the dupe apps!
Let's make 2021 the year you move from a basic Intranet that is more of just an information library/shared document repository to a Complete Digital Workplace that takes advantage of all the extended benefits of a SharePoint Intranet. We are here to help! I strongly believe in SharePoint, but I also will be the first to tell you it is not one-size-fits-all solution. The success and value will come from planning and customizing it to fit your organization. I often see Intranets that are not well ingrained in the culture or processes of a company, so it is ineffective and forgotten. Either the employees are not aware that the intranet exists, don't have good reasons to use it, or don't know how to use it. Let's work together to make sure that none of these are the case for you! Fill out the comment form below or contact us to learn how you can use a SharePoint Intranet to empower your teamwork and collaboration.
ABOUT INSITE BUSINESS SOLUTIONS:
InsITe helps businesses and manufacturing companies get the most out of current and emerging technologies with a customized IT approach to maximize growth, efficiency, insights, and productivity. InsITe is not a typical IT company selling products for short-term, short-sighted fixes. We invest in long-term solutions for a company's growth by taking the time to learn its products, process, and business goals before bringing tech into the conversation. In this way, we become much like our Clients' very own internal IT department with familiar faces who understand the business.
If you have any questions about this post please leave a comment. We read and respond to all comments. Or better yet, give us a call and ask to talk directly to our Founder and CEO Mike Schipper 616-383-9000.
COMMENTS: