Grand Rapids, MI. -- InsITe Business Solutions Inc. has announced that it has not only been listed as a Top Area IT Service Company by Grand Rapids Business Journal, but that it was the only one listed to double in revenue from 2017 to 2018!
InsITe is one of the fastest growing IT companies in West Michigan, having almost doubled in revenue in the last year. Grand Rapids Business Journal published its annual Top Area IT Services and Networking Companies list on July 9th, 2018 with InsITe topping the list with only 16 companies. The Business Journal defines "West Michigan" as Allegan, Kent, Ottawa and Muskegon counties.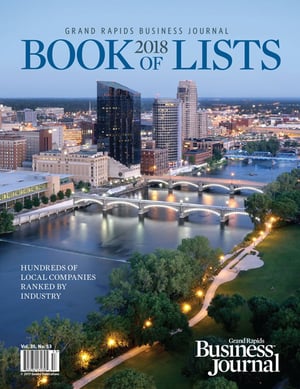 InsITe sees this growth as an indicator that the company is on the right track in making an impact both for its clients and the community. InsITe continues with the mindset that it is not simply about growth, but about making smart decisions about investments, efficiencies, and leveraging tech in a new age of automation.
"We're excited to be ranked among the top IT companies in West Michigan and hope this is just the beginning of more growth that enables us to better serve our customers and our community," said Mike Schipper, Founder and CEO of InsITe. "This gain in revenue is not the way we measure our success, but it is a sign that we continue to head in the right direction as a direct result of what we do for our clients. The hard work the InsITe Team puts forward each day does not go unnoticed, and I'd like to thank the entire Team for their continued efforts. We strive to continue to partner with our clients and provide the custom IT solutions that work in their best interest. Our goal remains to make West Michigan a more secure and productive place to work."
The list offers InsITe some visibility within the West Michigan community, and an introduction for those who may not have heard of the company that's located in the city of Zeeland, Michigan. "Grand Rapids is still a community doing business in face-to-face meetings and handshakes: It's about 'who' you know, and the lists provide some introduction", says Danielle Nelson, Reporter at Grand Rapids Business Journal. "Companies considering Grand Rapids locations or expansions and newcomers to the city request the Book of Lists all year."
For the complete 2018 list of rankings and revenues, view the PDF.
Learn more about one of the fastest growing IT companies in West Michigan.