How to Save Money on Your Operational Technology Costs
In my last blog post, I talked about the failure of small businesses everywhere in preparing for the COVID-19 outbreak and the associated requirements to work remotely. In this blog article, I am going to speak to one of the first steps we look to as we begin building a complete business-aligned technology strategy: Operational Technology Cost Optimization (OpEx Technology).
Your OpEx technology is your recurring expenses related to technology such as:
Support services

Internet service

E-mail service

Hardware maintenance contracts

and so on.
Most likely you cannot just eliminate all of these expenses, but you CAN optimize and consolidate them!
Before building a strategy or plan for anything – whether we are solving supply-chain challenges, trying to figure out how all of our employees are going to work from home starting tomorrow, or building a house – we need to gain an understanding of the requirements, goals, risks, and opportunities.
As it relates to technology, walking through an OpEx cost optimization exercise is a great way to begin this process. Doing so will set a foundation for understanding your current costs as well as technologies. And hey, if we can find some easy savings through the process, why not, right?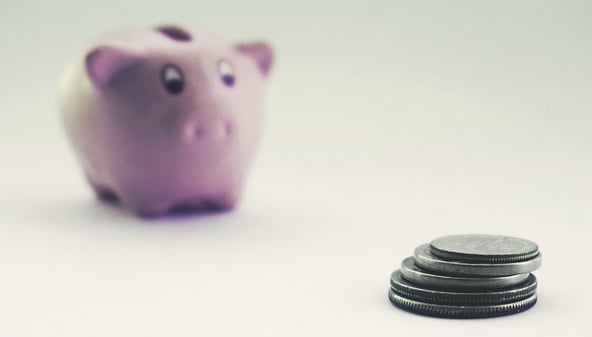 There are several things we achieve through an OpEx Cost Optimization exercise:
Identify all OpEx technology-related services and costs – Understand your "true operational costs"

Rationalize each business need relative to the technology we currently have

Hold discussions or key thought processes around WHY you took on each expense

Identify the "foundational" OpEx technologies that will make up our future strategy

Uncover the inefficiencies and lack of integrations in our current technologies, relative to business needs
By following this process we begin to recognize the actual business needs and value around your technology. After all, the technology we spend money on should actually translate to an investment for the business, shouldn't it? Going through this process will start you down the road to identifying your foundation. We also identify areas we are overspending, and yet sometimes we also find areas that we are under-investing.
It is important as you work through the WHY behind your OpEx costs to consider your specific business priorities. It is easy to look at any existing expense, how much it is costing monthly and annually, and want to simply cut it. Your decisions should be focused around the business priorities and the technologies that align.
Yours may not be the same, but below is a quick list of common high-level priorities we take into account as we perform these exercises for our clients:
Production focused technologies – Producing your product

Customer experience impacting technologies – Delivering for the customer

Process related technologies – Improving process and efficiency

Security, compliance and productivity technologies – Safe remote working
A common tendency in driving quick cost savings is to identify expensive services and simply start slashing, cutting, and canceling. I know, that probably seems like the easy way to get it done. But the fact is, depending on your business priorities, your employee needs, current economic conditions, and your customer requirements, doing so could be detrimental to future success.
There are also certain areas you should certainly not cut and should be careful about driving savings at the cost of reducing important functionality or features. The idea should be to maintain key investment in services that enable a secure, efficient, and productive working environment.
Here are some examples of areas we recommend additional consideration before making adjustments:
Collaboration technologies (those that enable remote work or improved collaboration)

Security and compliance

Backup and disaster recovery

Critical infrastructure maintenance contracts
The technologies in the above list certainly can be optimized, but should never be completely eliminated. We recommend reviewing such services with a professional technology service provider before making changes, to ensure any new or reduced services will continue to meet your business needs.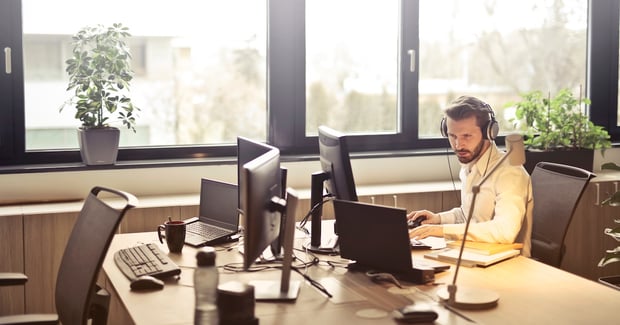 The Low-Hanging Fruit
Reduce reliance on overpriced, inflexible, and ineffective outsourced technology support.
We find often that small businesses simply hand off management of their technology to an outsourced provider, assuming everything will be optimized and taken care of. Unfortunately, that is most of the time not the case.
If you are paying your technology provider a certain amount per month for an "unlimited support" plan, and they haven't provided you with a complete technology strategy, and haven't met with you within the last month to review it, it's a poor investment. One of the quickest ways to save (or squeeze more value) is to move to a more flexible support plan that allows for "co-management" of your environment. Many of the onsite tasks that you are paying high dollar for, a non-technical technology liaison on staff could assist with.
Here are some steps and considerations for making this change:
Identify an IT resource within your company to take on more responsibility for technology deployment and support

Enable self-service environment, stop calling your support provider for the easy things

Insist on direct access to the tools your provider uses so you can share the resources and your internal resource can assist when needed
Ultimately, moving to a more flexible agreement allows for a smarter spend and gives you the ability to focus your outsourced investment on the things you can't do yourself, while your internal liaison takes care of the easy stuff.
Consolidate Your Services and Save
I made the point earlier that there are some technologies that you shouldn't cut such as security, backups, and the like. But if you can't cut, how can you save? Consolidation is the key.
We find in so many cases that our new clients have been spending on several overlapping services. By sorting out the actual business needs and consolidating to an alternative mix of products, or bundled suites of products, that we can recognize fairly significant savings, while also enabling better integration and continuity between the tools. This is often the case with security solutions, and even to a larger extent, collaboration, and communication technologies. We'll talk about this in more detail later.
Let's get to optimizing!
To assist you through this process, and make it as easy as possible for you, we have provided a free cost-optimization spreadsheet to use to calculate your "true technology costs," and identify key savings areas. Within the sheet, we have provided the common OpEx areas, along with an estimated common % savings we have found to hold true in most cases. When you have this sheet filled out, it will provide you with an idea of how much you can save through optimization.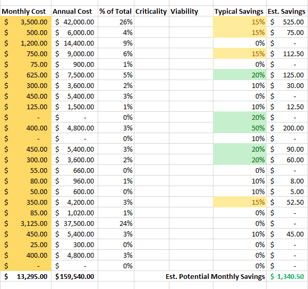 Supplemental to the spreadsheet, below I have listed each OpEx technology or technology category and provided thoughts and considerations around how you might optimize each service.
Technology Support Services
I spoke about this earlier in this article. The idea here is to get away from inflexible, fixed-fee-per-month plans, and move to a more flexible month to month plan. An example of a more flexible plan is a "block support" plan, wherein you purchase a certain number of "block" support hours each month based upon an estimated consumption model, then if you don't use some of the hours, they simply roll over to the next month. With the right technology provider, this type of plan provides more flexibility in a pinch, yet should not compromise your level of service, nor level of protection.
Another thing to make sure to get away from is signing any long-term contracts. Many providers out there want you to sign for multiple years to get a discount. This is an archaic way to approach technology services and will end up costing you. If you are already in a contract for services don't worry, there are typically out-clauses.
Maintenance Contracts
Server, network, and other hardware maintenance contracts can get expensive. But in the right situation, they can also be life-savers. So what do you do? The answer is, it depends.
This is an area where you have to take into account risk vs. reward. If the software or hardware that is covered by the maintenance contract is critical to your business, then cutting those costs are not necessarily the right answer. If you can afford some risk in a certain area, then it's worth a look.
One example of where we have recommended foregoing a maintenance contract is for network switch hardware. Depending on the number of devices you have, and the cost of the maintenance contract, it can sometimes be beneficial to install a redundant switch. In other cases, we recommend keeping a spare on hand. This savings area is all about risk vs. Reward.
Cloud Infrastructure Savings
The beauty of cloud infrastructure is that you only pay for what you use. This is a huge advantage, particularly in times where you need to cut quickly, or have significant increases or decreases in demand. You can adjust quickly.
The challenge is that in most cases we find our new clients are paying for way more than they need! Why? Most of the time it is due to a misunderstanding of how cloud works, or lack of due diligence in optimizing cloud costs – which should be an ongoing effort. Most of the time we find that cloud servers are unnecessarily over-provisioned, and we can find some easy, quick savings.
If you already have cloud-hosted services, there are several ways you can look to optimize your spending.
Audit your server sizes and determine if they are over-provisioned (Save 10-50% on select servers)

Leverage "shared" resources at your cloud provider, or "burstable" servers (Save 20% or more on select servers)

Setup shut down schedules to turn off your VMs during business off-hours (Save up to 30% on non-critical servers)
Obviously, your savings will depend on how many servers you have in the cloud, and how inefficient your current deployment is.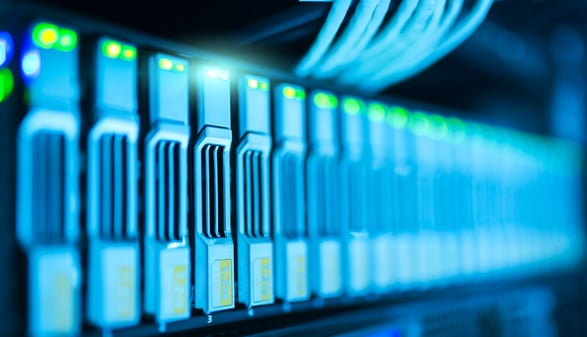 System Backup Services
Most companies have shifted to cloud-hosted backup services. These services have matured significantly in the last 5 years, so what was once an expensive solution is now pennies on the dollar. Unfortunately, if you have held the same services that you set up 3 or more years ago, most likely that provider never reduced your prices along with the market.
The first recommendation for backup services is to look at alternatives and compare new services pricing with your current spend. Most of the time there are savings. Another option is to evaluate your specific needs around data retention, and if your current backup provider charges for long-term retention, and it isn't required for your business, clean things up a bit. This takes careful consideration, but in select circumstances can net some significant savings.
It is worth saying that before you make any changes here you must understand your specific business recovery needs, before making changes. Consult your technology solution provider before making these changes, they can often assist in this exercise.
Internet Service
Much like backup services, internet services have matured very quickly over the past 5 years. The first recommendation I would have around internet service is that you should NEVER sign more than a 3-year contract for any internet service. The technology simply moves too quickly!
If you are looking for cable internet or other "non-enterprise" internet service, you shouldn't have to sign any contract at all and can be on a month-to-month billing. This is ideal.
In addition to this, in most small business cases, fiber internet is unnecessary, particularly if you leverage cloud-hosted services to host your critical public-facing services. There are many internet service providers out there that will tell you otherwise, but they are misleading you.
So how do you identify savings for internet services? The answer depends largely on timing and provider. If you are in a month to month contract, simply call your provider and ask them for better service. In so many cases, particularly with cable internet, you can simply ask for faster service and they have options and promotions they can offer (to keep your business).
I have seen this be the case with a few fiber providers also. This is why it is best to NOT commit to fiber internet (or other "enterprise-class" internet services) unless you absolutely need them. They require lengthy contracts, and are highly inflexible. In cases of fiber internet, identify your contract renewal date, understand the cancellation clauses (they trick you), then plan for an alternative solution or negotiate better pricing and terms this next go-round. Flexibility is key - do NOT sign long-term contracts!
The last point I would like to make is that working with a 3rd party, non-biased, telecom consultant is way more advantageous than working directly with the internet providers. The right consultant will set you up with what you need, leverage them, but watch out for the bad apples.
E-mail Service Savings
You are most likely already hosting your e-mail with Microsoft or Google. We are a Microsoft Cloud Solution Provider and recommend Office 365, so I will speak to what I know of that product.
To drive savings from Office 365, the first thing to do is a license audit. In most cases, we find businesses are overspending on the wrong licenses, or are paying for licenses they are not using. This is a simple way to save. Once an "optimal" license count is achieved, we recommend considering consolidating your "collaboration suite" by using the Office 365 and Microsoft 365 platforms. The Microsoft cloud platform can provide phone service, instant messaging, audio/video conferencing, collaboration, cloud storage, and so much more.
By consolidating your services to a single platform, not only do you drive down costs, but you enable direct and immediate integration between your services, which is a huge advantage as it relates to ease of use and adoption for your employees.
Collaborations Services
Much like e-mail services, you should begin with a license audit. What are you paying for that you are not using? Are you paying for more features than you need? Evaluate the license levels and see if you can cut it down a bit without losing functionality that your business needs. Also consider consolidating, per the suggestion in the e-mail service savings section.
Audio Conferencing Service
Treat this one just like those above.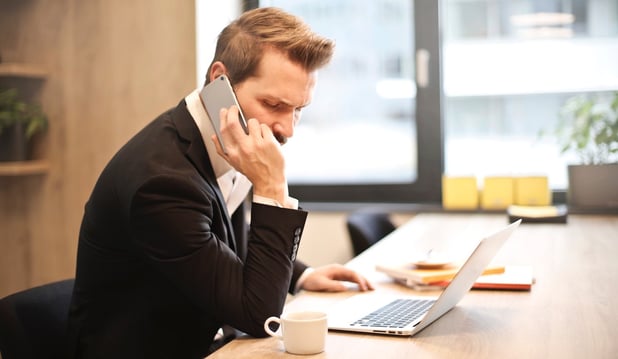 Phone Service and Equipment
First of all, if you are still using an on-premises phone system you should consider moving to Voice over IP phone service (VoIP). VoIP service has been around a long time and is mature. A VoIP system enables all sorts of new functionality, the ability to take and make calls from anywhere, and eliminates the fear of limited phone lines (amongst other legacy system limitations). Much like internet services, beware of long-term contracts. Month-to-month service is possible with the right provider and right solution (such as Microsoft 365 Business Voice).
For on-premises phone systems (non-VoIP), we recommend creating a plan to move to VoIP as soon as possible. Part of that plan can be to eliminate the legacy service contracts for your current legacy phone system to begin some short-term savings prior to moving to VoIP. There are other ways to drive cost savings on your onsite phone service, but again, many of them carry longer contracts and should simply be eliminated for that reason alone.
Like internet services, it becomes a timing thing. Understand your contract terms, cancellation procedures, and plan to move to VoIP and begin paying month-to-month for only for what you need.
Much like e-mail and the other "collaboration and communication" services above, consolidating phone service with these other services is hugely beneficial. As I've mentioned, Microsoft Office 365 and Microsoft 365 offer a strong consolidated suite of services that can replace all collaboration and communications services in one single integrated package. This is ideal for small business!
Software/Security Subscriptions
If you use the internet, you are at risk. Virtually every business in the world is connected to the internet, and that means you are at constant risk. The challenge is knowing how to protect yourself.
This subscription, that subscription... it can get expensive extremely quickly, and are you even protected? Most of the time we find our new Clients have been exposed in some way for quite a while before we set up our systems. Given security is so important, my focus here is more on saving you from a hugely expensive breach or data loss scenario vs. direct short-term savings. Focusing savings on security is not the right way, but we can still optimize your spend while enabling world-class protection.
With security, we recommend investing in a bundles suite of services that will maximize your investment and maximize your safety. Security is also not the area to guess. We recommend leaning on an experienced security-focused Managed Service Provider for their recommendation. At InsITe, we have built a specific security platform, including a comprehensive set of services that will protect you in all areas. Our platform simplifies pricing, yet maximizes your security. With a 100% success rate to date (as of 4/27/2020) in preventing ransomware and breaches for our clients. Security is important, but a smart investment is key.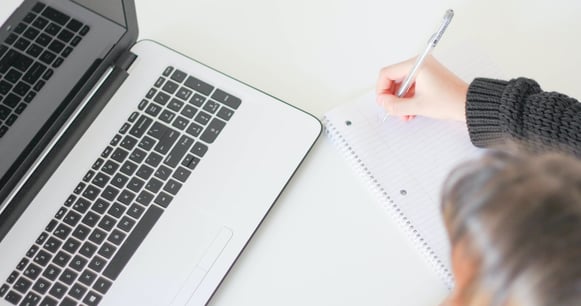 Yes, there is a lot to consider. So what should you do now?
Now that you have some ideas on how you might save in each area, here's what we suggest:
Download our cost-optimization spreadsheet and fill it out. If you need assistance filling it out, watch this video first!

Review the potential savings it calculates to identify your monetary opportunity

Begin filling in the notes in each section for your plan of action

Prioritize the largest savings, attack one at a time
You might be thinking "this all seems very complicated, so why is it necessary again?" I completely understand the question. The thing to remember is that this exercise is not only about OpEx cost savings. When you walk through this process, it will spur conversation around your specific business needs, you will better understand how your technology investment is benefiting (or not benefiting) your business, and it will also uncover opportunities for technology to increase your efficiency, security, and productivity. The "soft" benefits you will realize through this exercise are much larger than the savings you will achieve in cash savings, I guarantee it.
Most importantly, optimized operational technology is a foundation for a great overall technology strategy. When your operational technology is optimized, and you have the right pieces in place, you can build something truly meaningful for your business.
Technology has been and will be a key driver of success as we move forward into the future, let's optimize it now and get the most out of it!
What's next? Need help?
Click here to email us your completed spreadsheet and we can help you optimize your services!
ABOUT INSITE BUSINESS SOLUTIONS:
InsITe helps businesses and manufacturing companies get the most out of current and emerging technologies with a customized IT approach to maximize growth, efficiency, insights, and productivity. InsITe is not a typical IT company selling products for short-term, short-sighted fixes. We invest in long-term solutions for a company's growth by taking the time to learn its products, process, and business goals before bringing tech into the conversation. In this way, we become much like our Clients' very own internal IT department with familiar faces who understand the business.
If you have any questions about this post please leave a comment. We read and respond to all comments. Or better yet, give us a call and ask to talk directly to our Founder and CEO Mike Schipper 616-383-9000.
COMMENTS: