As COVID-19 continues to be a concern for many individuals and businesses beginning to re-open, the main concern on many minds is:
How can we monitor our health and safety?
Thankfully, InsITe has come up with a solution to this problem!
We have developed a simple and inexpensive app meant to help businesses monitor their employees', clients', and other visitors' health as they come back to work. A daily report of each person's health is critical to keeping a safe environment for all those who enter your facilities. That is what this app is meant to accomplish. As we ourselves are going through this same process of adjusting to a "new normal" in how we monitor health and safety, this app has already been of great use within InsITe Business Solutions itself.
WHAT IS IT
The COVID-19 Daily Health Screen Self-Report App is a health validation form that your team and guests fill out daily prior to entering your office or a customer's location. Anyone can fill it out via mobile, desktop, or tablet, from anywhere in the world. You gain peace of mind that each person is declaring that they do not have symptoms of COVID-19. You also gain the ability to do basic contact tracing in case of any future known infections.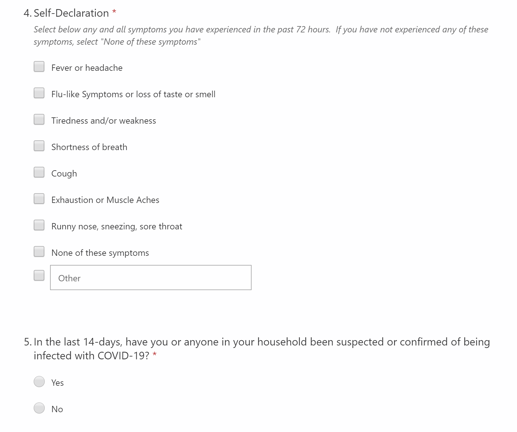 Solution Advantages:
Helps prevent spread of COVID-19 within the workplace
Share health liability with employees, vendors, contractors, and other visitors
Alert immediately on reported health anomalies
Reminder for employees and others of their responsibility for prevention
Track daily health reports for each person that enters your facilities
Reporting to prove due diligence
Base Product Included Capabilities:
Branded COVID-19 self-validation form for employees & vendors
Smart phone, tablet, and browser access
Direct integration with Microsoft Teams


QR Code for easy mobile lookup

Summary report of surveys completed
Alert e-mail to globally designated contact for any responses requiring follow up
Multi-language support (Spanish included)
Details easily exported to Excel
Securely stored (PII & HIPAA compliant)
WHAT DOES IT COST?
Right now we are offering the base app for $500.00 for deployments between now and June 15th, 2020. This base app is only the beginning of how you can leverage this solution. We also offer additional integrations and extensions based on your specific use-cases or needs!
Additional Available Integrations/Extensions:
Facial recognition on building entry or machine work center operation
Thermal camera integration
Advanced notification routing (e-mail direct report)
Additional languages
Additional workflows and auto-actions
Advanced Contact Tracing

SharePoint integration, PowerBI, or other

Line of Business application integration
Visitor/contractor location tracking
Additional reports and analysis tools
External hardware integration (thermometer, temporal scanner, etc.)
HR and employee list integration, including time and attendance
Door access and badge system integrations
If you are interested in learning more, please Schedule a Call to discuss the solution in more details, or setup a kick-off to deploy the solution.